And Now.....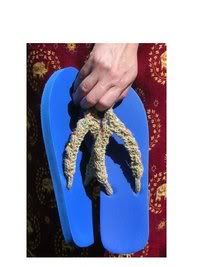 Be-Bop Beaded Beach Flip Flops
Difficulty [Tangy]
The cold Minnesota winters made me long for days in the sun. What could be more summery than a pair of flip flops with beads for added whimsy. Up north, as soon as the snow starts to melt, people pull out their flip flops. Who cares if your toes are turning blue? The important thing is that you are ready for summer.
I like to put knitting where it is unexpected but still functional. These whimsical flip flops are the perfect evening project. They don't take long to knit and the beaded cable gives it just enough variety to be interesting. I like the random bead colors but it would be just as easy to create a pattern or stick with one color. I was stymied for a while about how to attach the knitting to the sole until I was inspired, buttons! Buttons with shanks so the hemp doesn't wear itself out rubbing the pavement.
SIZE
S [M, L] (shown in size M)
FINISHED MEASUREMENTS
from cast on to cast off, 7 inches, 17.75 cm, [8 inches, 20.5 cm, 9 inches, 23 cm]
MATERIALS
[MC] 20# Hemp cord. I used some from a left over jewelry project. A good substitute is Hippe Hemp 20#, 300 feet. White; 1 ball
1 set US
#3
/3.25 mm double-point needles
1 US
#3
cable needle
Stitch holder
Notions required [beads, assorted colors, one pair of flip-flops, small yarn needle, 6 flat shank buttons nine sixteenths inches]
GAUGE
24 sts/20 rows = 4 inches in stockinette stitch
PATTERN NOTES
Make sure that the flip flops have the type of thong that goes through the sole and is attached by the little vinyl buttons on the bottom of the sole.
Thread all the beads onto the yarn before knitting.
To make the Beaded Cable Cross:
Slip two stitches onto the cable needle as if to knit. Hold needle to the front of work. Knit two stitches from the double-pointed needle. Pull bead right up to the last stitch knitted. Knit first stitch from cable needle and pull bead through loop so that bead is now on the right side of the work. Knit next stitch off cable needle. Continue in pattern.
PATTERN
Sole
Cut off the plastic thong of your flip-flops. You should have two soles with three holes in each.
Right thong leg
Cast on 4 stitches leaving a 8 inch, 20 cm tail.
Knit an I cord one-half inch, 1.25 cm [1 inch, 2.5 cm, 1 inch, 2.5 cm] long.
Note: The rest of the pattern is knit back and forth.
Row 1: K1, M1, K2, M1, K1, turn.
Row 2: K1, P4, K1, turn.
Row 3: K1 M1, K4, M1, K1, turn.
Row 4: K2, P4, K2, turn.
Row 5: K8, turn.
Row 7: K2, Beaded Cable Cross (see note), K2, turn.
*Work rows 4 and 5 three times
Work row 7*
Repeat between *s until thong leg has 4[4,5] beaded cable crosses.
Repeat Row 4.
Put Right thong leg onto stitch holder.
Left Thong Leg
Work as for Right thong leg.
Toe Thong
Put left thong leg and right thong leg onto one double point needle. Make sure the working yarn is the edge, not in the middle.
Row 1: K, turn 16 stitches.
Row 2: K2, P4, K2 tog, K2 tog, P4, K2 turn 14 stitches.
Row 3: K, turn.
Row 4 K2 P3, P2 tog, P2 tog, P3, K2, turn. 12 stitches.
Row 5: K2, Beaded Cable Cross, Beaded Cable Cross, K2, turn.
Row 6: K2, P2, P2 tog, P2 tog, P2, K2 turn 10 stitches.
Row 7: K, turn.
Row 8 K2 P1, P2tog, P2 tog, P1, K1, turn 8 stitches..
Row 9: K, turn.
Row 10 K2, P4, K1, turn.
Row 11: K2, slip one stitch onto cable needle, slip 1 stitch onto a holder, K stitch from cable needle and next stitch off working needle tog pulling a bead through the stitch, slip stitch from holder back onto working needle, K2 tog, K2. turn. 6 stitches.
Row 12: K2, P2, K2, turn.
Row 13: K1, P2tog, P2tog, K1 4 stitches.
Work an I cord for 1 one-quarter inches 3.25 cm [1 thee-quarters inches 4.5 cm, 1 and three-quarters inches 4.5 cm]. Bind off leaving an 8 inch, 20 cm tail.
Repeat Right Thong Leg, Left Thong Leg and Toe Thong for the other Flip Flop.
FINISHING
Weave in the end where the right and left thong leg come together.
Thread the I cords into the holes in the soles. Thread the buttons onto the tail ends. Attach them firmly and weave in the tail ends. Trim all tails.
Head for the beach!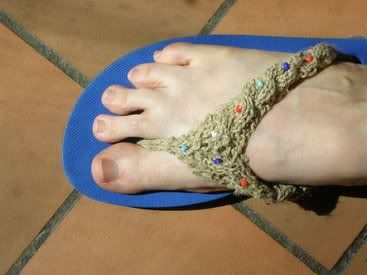 So that means I get to share my pattern with you!