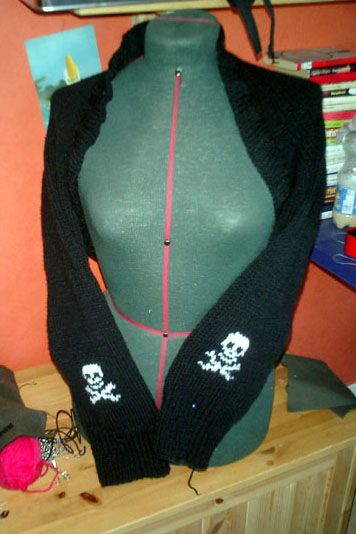 Sometime ago I promised a translation of this pattern
I tried to be as clear as I could, any questions just ask..
it's a very basic shrug pattern (I added skulls)
the pattern is easy and practically welcomes own alterations.
use your imagination!
measurements:
arm | back | arm
48-50-52-54 | 40-42-44-46 | 48-50-52-54
the shrug is knitted in once piece
and efterwards the arms are sewn together
sizes: XS-S-M-L
needles: 5,5mm
15 st = 10 cm
the measurements in this pattern is written in cm, not inches,
10 cm is ap. 4 inch
convert cm to inch
Cast on 46(-48-52-56) st. Knit in rib [k1p1] for 10 cm.
Switch to st st. When work measures 48(-50-52-54) cm, place marker at each side.
continue in 3 st in moss stitch, 40(-44-46-48) st st, 3 st moss stitch.
When work measures 88(-92-96-100) cm place new markers at each side and st st all st until work measures 126(-132-138-144) cm. Knit in rib [k1p1] for 10 cm. cast off. sew arms to the markings.
that is the basic pattern, I added rib around the neck and front, after you've sewn the arm together, pick up stitches along side the opening and [k3p3] for as long as you like.
Skull chart
(thank you cyntergomes)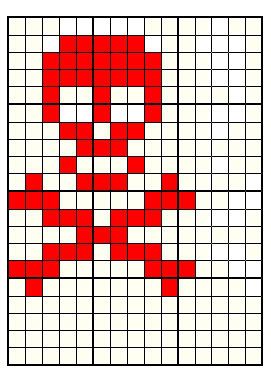 first skull
when work measures approx. 16 cm begin first skull after 18(-19-21-23) st
(read chart from bottom as usual)
second skull
when work measures approx. 113(-119-125-131) cm begin second skull after 18(-19-21-23) st
(read chart from top this time)
EDIT: added credit and fixed the translation